On August 22, 1964, the Beatles arrived in Vancouver to perform their first-ever Canadian concert at Empire Stadium.   At 9:23pm, after a quick intro from MC Red Robinson, the band opened with Twist and Shout, and a near riot occurred.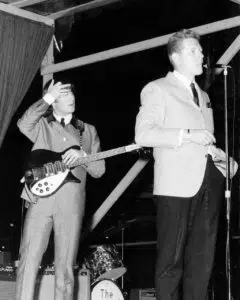 Halfway through the show, Red was told to get back out on the stage and tell the rowdy concert-goers that they would have to calm down, or the Beatles would have to leave.
"I walked out on the stage at the end of a number, and said: 'We've got to back some people up, there's been two kids crushed already, they'll have to cancel the show.'"
"John Lennon said, 'Get the F… off our stage, nobody interrupts the Beatles!' And I said, 'John, Brian Epstein [the Beatles' manager at the time] sent me up here. And he looked down, and Brian's giving him the 'Hi' sign, meaning let him do it, and he goes 'Okay, carry on mate'."
The Beatles ended up only playing 11 songs that night and right after the concert, Paul, John, George, and Ringo were whisked away and taken to the airport, and just like that, the Beatles left Vancouver.